Introduction:
A well-maintained roof is essential to protect your home from the elements and maintain its structural integrity. However, the cost of roofing services can sometimes be a concern for homeowners. The good news is that there are affordable roofers in your area who provide quality solutions without breaking the bank. In this blog, we'll explore the benefits of hiring affordable roofing contractors and how to find the best one for your needs.
1. Quality Doesn't Have to be Expensive:
Affordable local roof contractors in your area prove that quality doesn't always come with a hefty price tag. Many roofing companies are committed to delivering top-notch services at reasonable rates, ensuring that homeowners can access the roofing solutions they need without stretching their budgets.
2. Importance of Research:
When looking for affordable roofers, conducting thorough research is crucial. Start by asking for recommendations from friends, family, or neighbors who have recently had roofing work done. You can also search online for local roofing companies and read reviews from their previous customers. Look for companies with a track record of delivering quality workmanship at affordable prices.
3. Multiple Quotes for Comparison:
To ensure you get the best deal, obtain quotes from multiple affordable roofers in your area. Most Roof Repair Companies Near me offer free estimates, allowing you to compare prices and services. However, remember that the cheapest option isn't always the best. Consider the overall value, including the quality of materials, expertise of the contractors, and any warranties offered.
4. Check for Licenses and Insurance:
When hiring affordable roofers, verify that they are licensed and insured. A licensed roofer indicates that they have met the necessary requirements to operate in your area and have the expertise to handle roofing projects. Insurance coverage is essential as it protects you from liability in case of any accidents or damage during the roofing process.
5. Transparent Communication:
Choose a roofing company that practices transparent communication. A reliable roofer will be upfront about their pricing, the scope of work, and any potential additional costs. They should also be willing to answer any questions you may have and provide you with all the necessary information to make an informed decision.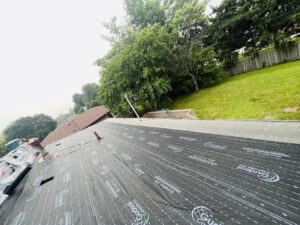 6. Financing Options:
Some affordable roofers may offer financing options to help ease the financial burden of major roofing projects. If you're unable to cover the full cost upfront, inquire about any available payment plans or financing arrangements that can fit your budget.
Conclusion:
Affordable roofers in your area can be a lifeline for homeowners seeking quality roofing solutions without overspending. By conducting thorough research, obtaining multiple quotes, and ensuring the company is licensed and insured, you can find a roofing contractor that meets both your budget and quality requirements. Remember that a well-maintained roof not only protects your home but also adds value to your property. So, don't compromise on quality; find an affordable roof company near me that delivers reliable and efficient services for your peace of mind.